It is no secret to anyone that there has been a much bigger and more important revolution in digital payment methods in Spain and all over the world for several years now than in previous years.
Events such as the 2020 health crisis have accelerated transformations at the level of electronic payment methods, but have also motivated many previously non-digitalized businesses to take up electronic payments and form alliances with major financial companies.
Are we moving towards a society?
are you cashless?
By PWC payment method report "(89% of surveyed finance professionals) agree that the growth of e-commerce will continue in the coming years, which will require significant investments in solutions for electronic transactions."
In fact, the number of cashless transactions per capita on the planet is expected to triple by 2030. PWC's estimates are shown in the table below.
This also means challenges for businesses, but it's also an adaptation of cybersecurity. As the number of digital transactions mediated by digital wallets increases, so will the amount of data these same companies store about transactions, their types, amounts, and consumers.
The most important result of this diversification in the financial data storage model is the need for a new regulation for the electronic commerce and finance sector, which does not exist at the moment.
For example, data retention as well as privacy regulations are required by these companies, which act as intermediaries in daily digital transactions.
Which regions of the world have developed the most in recent years?
In recent years, the Asian market in particular, led by China, has developed exponentially, with "all-in-one" platforms such as WeChat and AliPay. In fact, the Asian market is expected to be the market that will increase investment in digital transactions the most.
But even Latin America has made great strides towards digitalization with greater trust for end consumers while using digital payment methods since 2020.
However, both companies still lag behind other parts of the world in terms of payment options, particularly Latin America, where transactions with electronic payment methods are more diverse, such as the USA and Europe. e-walletsas well as the availability of different trading platforms that accept electronic payments.
What are the most increasing usage areas of digital payment methods?
Although electronic payments in general are on the rise in various industries: from traditional services to frequent and occasional purchases, as well as more selective transactions such as video games and entertainment in general.
For example, there is a growing trend of using electronic payment methods to pay on Spotify and Netflix, shop on Amazon and even play at online casinos or place bets online. These uses, albeit minor, are also being developed on digital payment platforms for more private use. Casinos with PayPal or Bizum in the Spanish case. This choice of method, such as PayPal or Bizum, is due to their practicality as well as privacy: the choice not to share personal card data directly with the casino.
This change is due not only to technological availability, but also to an intergenerational transformation: People with purchasing power today, who grew up with technological devices and were confident when transacting online, were born after the 1990s.
Global banking still far from target
The year 2014, when the World Bank aimed to achieve universal access to the financial system by 2020, was far away. This means we all have access to a checking account to deposit and receive funds.
But only 69% had access to the financial system in 2017, so they were still far from reaching the World Bank's goal. Main reason: Developing countries continued to fail in both financial inclusion and digital.
However, by 2025, smartphones are expected to reach 80% of the world's population, which means greater digital access to financial transactions via mobile devices.
What are the most used electronic payment methods in Spain?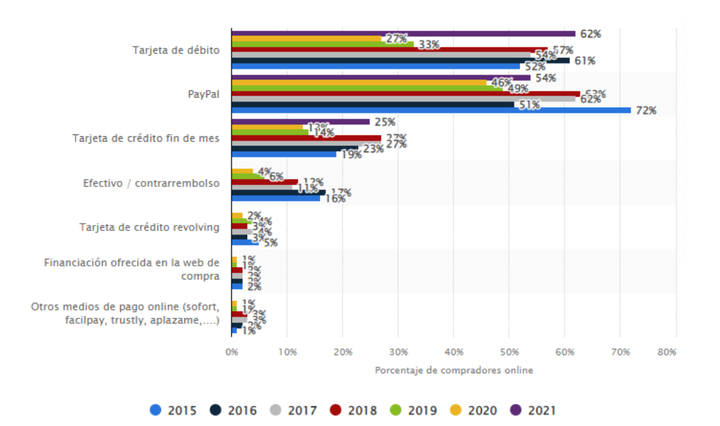 According to the report on Internet payment methods in Spain from Satista, debit cards and PayPal are the two most used payment methods on the internet in Spain. This report covers development from 2015 to 2021, so these are up-to-date data.
Credit cards are the third most used option, while cash ranks fourth. Since the website in question has put other financial options or electronic wallets in the same group, it is possible that the relevant information is grouped under the same criteria.
Where do cryptocurrencies come from?
Cryptocurrencies* are a key element of the digital payments revolution. In particular, despite the skepticism of central banks in Europe and the world, increasingly well-known financial companies such as Mastercard and Visa are preparing to facilitate the use of cryptocurrencies through their traditional products (debit and credit cards).
In fact, it is predicted that in addition to cryptocurrencies, Central Bank digital currencies called CBDC will be predominantly introduced over the next 20 years.
By 2025, the world will use less cash
Although there are still regions in the world where cash is used more than electronic payment methods, the tendency to make digital payments through applications such as ApplePay or GooglePay is increasing, even from mobile phones.
Platforms other than leading PayPal on the internet are very likely to enter the game. They are little known at the moment, but other alternatives such as Muchbetter, Trustly, Neteller, Skrill, EcoPayz, among others, are already available, at least in Spain.
Depending on the industry and the type of product or service, more and more consumers are expected to prefer the efficiency, speed and practicality of digital payment methods over using debit and credit cards directly on websites or in physical stores.
The 2020 crisis was a big supporter of a society that avoided cash in the same ways as avoiding physical contact, but it also worked, at least in Europe, to streamline transactions, modernize financial systems, and broaden the product range in general. digital options and trading cashless every day of my life.
* Investing in crypto assets is unregulated, may not be suitable for individual investors and the entire amount invested may be forfeited.

#cashless #society #payments #expected